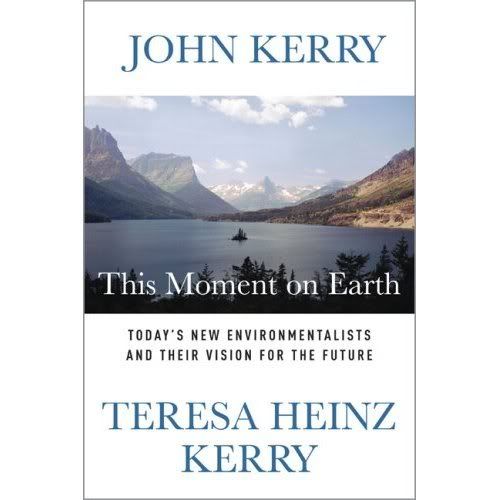 The title of this post is a play on the title of John and Teresa Kerry's new book, This Moment on Earth--a treatise on the nature of the modern environmentalist movement.
As I mentioned in my
diary
on Tuesday, Senator Kerry was in the Los Angeles area yesterday at a bookstore in Brentwood as part of his book tour.
I got to meet a few friendly faces there, including SusanG, whom it was an absolute pleasure to meet in person. shayera was also there--I had only seen her once since YK, and that just happened to be an "Inconvenient Truth" screening with Al himself. I took some photos, but unfortunately no notes--I didn't bring my laptop. I might be able to get an audio recording for download, but there are some technical issues we're working through right now, so stay tuned on that :-)
The event was held in the outdoor courtyard at
Dutton's Brentwood
--you can follow the link to see a picture of the courtyard in question. It was a little more than slightly chilly--John remarked that we were such a welcoming crowd that we had even managed to bring Boston weather out to Los Angeles to meet him.
And despite the weather, it was indeed a warm welcome--everyone was surprised by how many people came out to see the Senator and Teresa speak. The entire courtyard area was packed, and people were sitting on both sets of stairs and standing on the upper balconies as well. It was exciting to see that type of turnout--I'm hoping it bodes well for the future of the movement.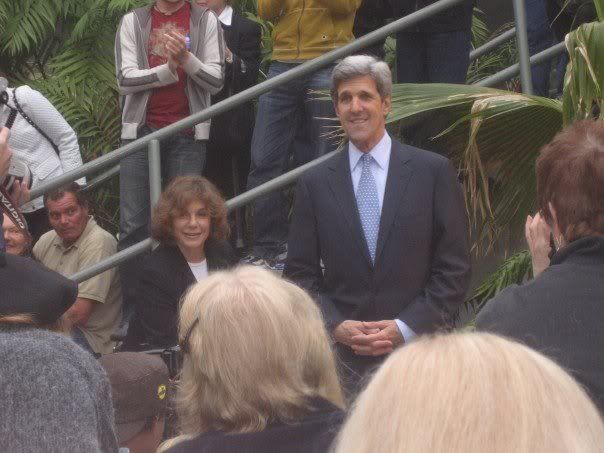 Senator Kerry began by giving an exegesis of sorts on the problems, solutions and principles contained in the book, weaving a narrative filled with facts, humor and passion. It's worth noting that his initial presentation included so much scientific data and information about CO2 levels, melt rates, positive feedback cycles, peer-reviewed publications (986 of them, to be exact!) that I began to wonder whether I was listening to the 2004 Democratic nominee or the 2000 Democratic nominee. On that note, it's worth pointing out that Kerry teamed with Al Gore to hold the first Senate hearings on climate change back in the 80s.
My memory may be faulty--it's certainly not photographic--but I don't really remember anything groundbreaking in the Senator's speech--just a affirmation of the dire need for reform of our nation's environmental and energy policies, and a reaffirmation of the fact that we have the capability to do something about it just as long as we have the political will. Perhaps others who attended--such as SusanG or Kevin in Long Beach--can weigh in on particular points I might have overlooked.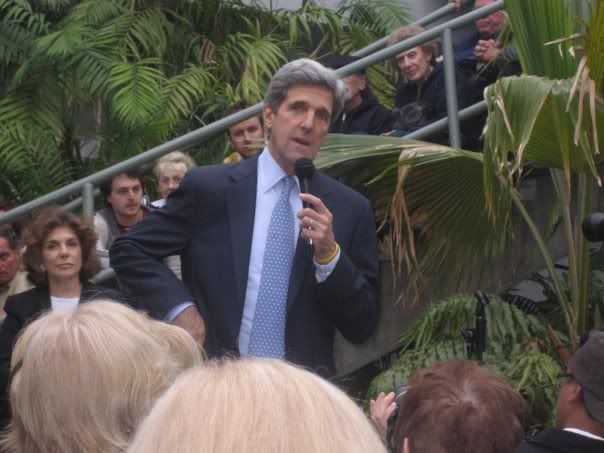 Before taking questions, John turned the mic over to Teresa, who spoke on environmental issues relating more to women. This included what was probably one of the more humorous (and informative!) moments of the evening--a discursus on disposable diapers! Seriously, I had no idea that "disposable" diapers took 500 years to make good on their commitment to biodegradability.
After Teresa spoke, members of the audience got to ask questions--and though the preferred topic was environmental issues, the questioners also touched on Iraq, immigration, and a host of other issues and current events--lots of which ended up boiling down, in essence, to environmental and energy policy.
From murphy in the comments on my DailyKos diary:
Kerry was asked who he was leaning toward in the 2008 primary, and said that he didn't know yet because none of the candidates had come out as strongly on environmental issues as he would like.
But by far my favorite part of the evening was actually talking to the Senator Kerry in the signing line! If you read my diary on Tuesday, you can see that I asked him whether he had heard of
Energize America
, and he sounded interested. Well, I brought some materials about Energize America with me including some background information about the Neighborhood Power Act, one of EA2020's signature legislative ideas, and gave them to the Senator--and he turned to his aide and said, "put these with my papers--and make sure I have it!" I think that was my first time ever lobbying a sitting Senator or Congressman, and I definitely hope I can repeat the experience.
This little personal experience also wouldn't be complete without mentioning my girlfriend Andi, who came with me--she has been a lifelong environmentalist and was a supporter of Kerry back in the 2004 primary because she found his environmental record so appealing. And because I told her that I thought the event would be inside so she probably wouldn't need a jacket, she spent a good deal of time shivering...but she thought it was worth it!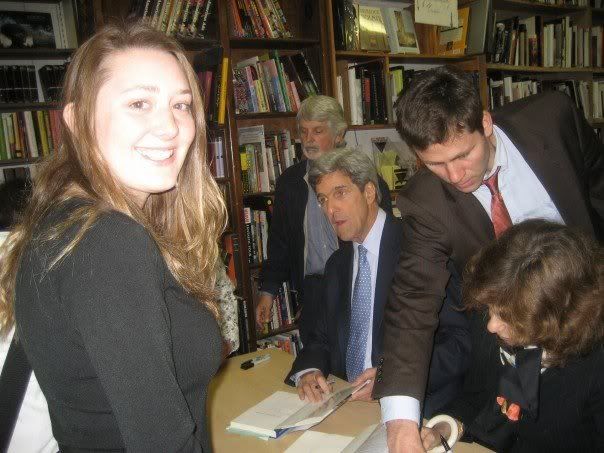 If there were any other Kossacks there beyond the ones I've mentioned, please speak up and state your opinions! Like I wrote in my earlier diary, I had no idea until now that Kerry was such a strong leader on environmental issues. Seeing his level of conviction makes me all the more happy that we have people like him and Senator Boxer heading up our Senate committees rather than Senator Inhofe. Elections have consequences, so let's keep winning!